Deco | Stucco | Woodcrete | Grind & Polish | Plaster Brusing
Services & Products
Deco Floor is a beautiful, seamless cementitious floor overlay, which is laid 2-3mm thick. It is a versatile and durable floor finish with a softly mottled appearance. This type of flooring is suitable for most rooms in the home and lends an attractive finish to living areas, bedrooms, bathrooms, passageways, kitchens and entrance halls. It is also suitable for commercial applications, such as coffee shops, restaurants, office buildings and showrooms. This low maintenance flooring option is a great conductor and holder of heat and as a result, works well with underfloor heating or a fireplace. Unlike carpet and many other flooring materials, concrete does not naturally retain dust, debris, or small dirt particles. It is available in 12 Natural Hues.
Stucco Plaster is a smooth cementitious wall coating which can be used internally and externally equally well. This is a hand-trowelled application which creates a slightly mottled finish, giving depth and movement to the overall appearance. It is perfect for internal and external walls and creates an outstanding final product. Stucco is suitable for application in bathrooms and shower walls as well as vanities, bath surrounds and many other areas. There are a variety of stucco finishes available to create the perfect decorative finish, these include the Off-Shutter look, Wood-look, Brick-look and Italian Stucco Finish. As with our Deco Floor this product is available in 12 Natural Hues.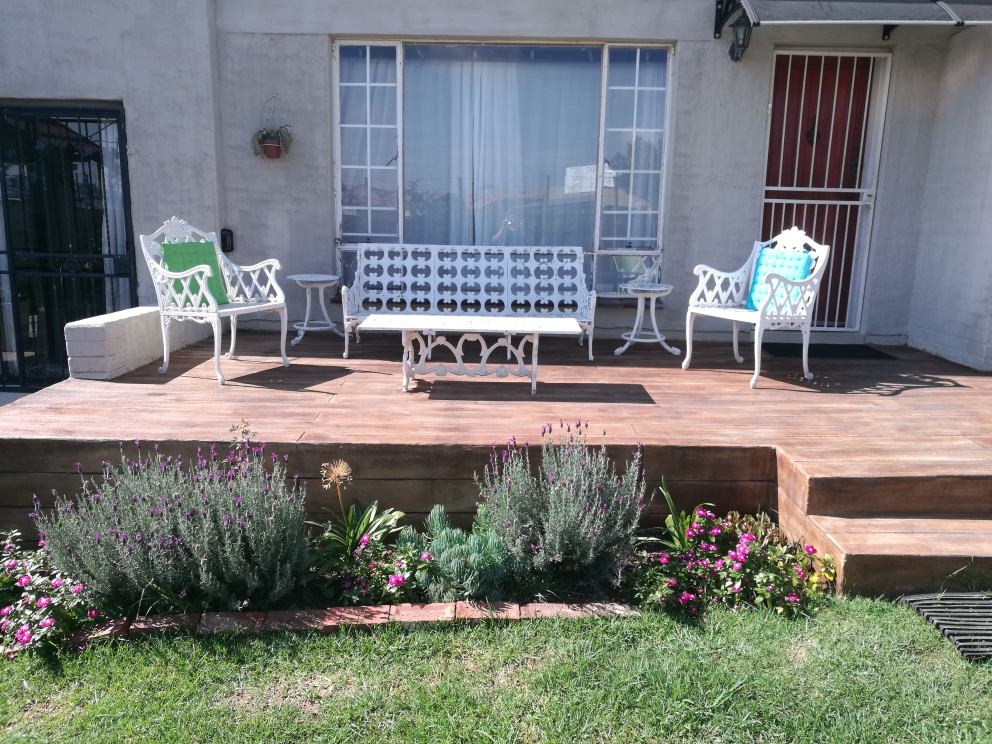 Our WoodCrete Floor Finish is a textured cementitious floor finish, made to look like a wooden floor. This beautiful flooring option is a great alternative to decking around pool areas, as it requires far less maintenance and the textured finish helps it to be slip resistant which is essential around a pool area for general safety. This can be applied in any of our 12 Natural Hues or can be stained to resemble wood depending on the client's preference. This versatile flooring application is suitable for indoor and outdoor areas.
Brush Plaster exterior coating is a beautiful option for internal or external areas. It is a cement coating which is brushed on and has a textured finish. It is an economical and durable wall coating solution and is a lovely alternative to paint on external walls, as it does not require as much maintenance. It is UV stable and ages extremely well. Unlike paint it can be applied directly over brickwork, without plaster, thereby making it far more pocket friendly. Brush Plaster also makes for a lovely finish for internal feature walls. Available in 12 Natural Hues this versatile product is worth a closer look.
Grind and Polish Floor finish, also known as Terrazzo, is an aggregate rich 4-8 mm thick cast floor, which is laid down in a variety of colours, then left for 3-5 days to cure, depending on the ambient temperature. We then grind and polish the floor with densifiers to give a smooth finish, which is then sealed to provide a hard wearing, durable floor.
We also provide a grinding service for existing floors.
Terrazzo, meaning Terrace in Italian, is an aggregate rich 4-8 mm thick cast floor, which is laid down, then left for 3-5 days to cure. We then grind and diamond polish the floor with densifiers to give a smooth finish and expose the aggregate in the floor. The result is almost that of a granite type finish with a seamless look. The option of 12 Natural Base colours and various natural stones which can be selected to suit the client's décor and colour scheme, ensure that this is a versatile and elegant option. Terrazzo is an extremely durable floor due to the aggregate and this makes it a popular option for residential and commercial spaces. It is a low maintenance floor that is easy to clean and does not harbour allergens or moulds thereby making it a healthy choice. Terrazzo is a good retainer of heat and this makes it a fabulous surface for homes with radiant heating.
Epoxy floor coatings are commonly used for commercial and industrial flooring. Epoxy coatings are normally applied over concrete floors to provide a high-performance, smooth, and durable surface that can last many years and withstand heavy loads. Many industrial sites, warehouses, and commercial buildings rely on epoxy floors to maintain clean and safe conditions for workers and equipment. Epoxy floor coatings offer many advantages:
Offers a hard-wearing durable surface able to withstand heavy and continuous traffic
Durable and easy to clean
Ideal for warehouses and industrial applications
Resists oil stains and water
Creates a seamless surface that can last many years
Provides a chemically resistant surface ideal for manufacturing plants
Requires little or no major maintenance
Various grades available depending on application
OTHER FLOORING SERVICES
We provide a range of other flooring services including grinding and diamond polishing of existing concrete, cleaning and sealing of concrete floors, general touch ups and maintenance of existing screed flooring. 
Contact us for further information on these options.
Let us know more about
What you are looking for…